November 17, 2022
COMTO Hosts First In-Person International Event in Montreal Quebec Canada
Image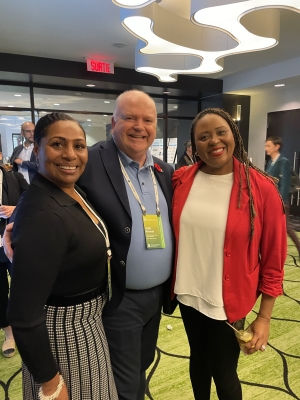 The COMTO Toronto and Region hosted COMTO's first ever in-person, international gathering in Montreal Quebec, Canada on Tuesday, October 25, 2022 at the Canadian Urban Transit Association's (CUTA's) annual fall conference and transit show. The reception celebrated COMTO as the voice of equity in Canada and introduced conference attendees and other distinguished guests to COMTO, joining its Canadian chapter, and hearing how we are advancing equity in Canadian transportation.
CUTA's annual fall conference and transit show is one of largest gathering of Canadian transit leaders since 2019. COMTO and CUTA share a memorandum of understanding and are excited to further their collaboration, purpose, and progress in Canadian transit. In addition to the COMTO Toronto and Region, the event was hosted by chapter co-founders Toronto Transit Commission (TTC) and New Flyer with support from Platinum Sponsor Jacobs; Gold Sponsors New Flyer, MCI and NovaBus; Silver Sponsor The Routing Company; and Bronze Sponsors CUTA and USSC. CUTA conference delegates, and distinguished guests had an opportunity meet and mingle with COMTO CEO April Rai, CUTA CEO Marco D'Angelo, COMTO Toronto & Region chapter leaders, and most importantly, COMTO members!
"It was amazing to have our first in-person event since becoming part of the COMTO family in 2020. We were thrilled to be joined by 150 CUTA attendees who listened, mingled and developed networks with other like-minded transportation individuals as we talked about increasing diversity, equity and inclusion here in Canada," said Annette Salfarlie, COMTO Toronto & Region President and Senior Advisor – Diversity & Culture, TTC. "The most important part was having our President and CEO April Rai in attendance. It spoke volumes in having her join us and brought huge credibility to our chapter as we continue to build awareness of the COMTO brand in Canada."
"Having our first international event in Canada was another incredible accomplishment for COMTO," said President and CEO April Rai. "To have COMTO Toronto & Region become a chapter in 2020 at the beginning of the pandemic, and to see 2-1/2 years later, the chapter hosting an event at CUTA's annual conference – the major transportation industry event in Canada – with 150 attendees, demonstrates that our mission and vision of equity and equal access for all crosses borders and speaks to our universal commonalities."
View pictures from the event here.