November 17, 2022
COMTO New York's Legislative Breakfast Gathers Political and Transportation Powerhouses to Talk Equity and "Building Back New York Together"
Image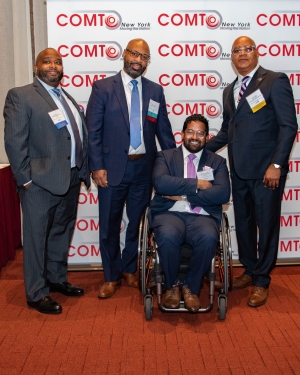 On Wednesday, October 19, 2022, COMTO New York hosted their Legislative Breakfast, "Building Back New York Together: Ensuring Access, Equity, and Opportunities in Transportation." The breakfast took place at Club 101 in Midtown Manhattan and had over 150 guests in attendance. Chair and CEO of the Metropolitan Transportation Authority, Janno Lieber, gave the keynote address focusing on equity being at the center of MTA's operations and business. There was also a surprise appearance by NYC Mayor Eric Adams, who provided compelling remarks about NYC, its image, and its path to recovery:
"We count on you COMTO to lift your voices and be heard in transportation," said Mayor Adams.
The event also featured remarks from NY City Council Speaker Adrienne Adams, NY State Senator Leroy Comrie, New York City Department of Transportation Commissioner Ydanis Rodriguez and The Port Authority of New York & New Jersey's Leticia Caviness, Chief of Staff to the Chief of Diversity Equity and Inclusion.
The event placed primes and HUBs all in the same room to network.
"In NY we are passionate about creating networking opportunities for small businesses and primes to connect," said President of COMTO NY Richard Watson. He added, "COMTO-NY is truly committed to our efforts to ensure that equity is a priority in every conversation about transportation throughout the New York region."
Feedback from sponsors and guests was favorable.
"Thank you, COMTO New York, for hosting such a powerful breakfast. My team and I were surrounded by some very important people and had some very important conversations to help create a better New York," said Anthony Tepedino, CEO/President at ASG (Diamond Sponsor).
"It was a powerful day and thankful to be part of it," said Patryk Mielnicki, COO at ASG.
"We were delighted to attend COMTO New York's Legislative Breakfast this AM! We're proud to be a sponsor of their vital work advocating for a more just, equitable, and inclusive transportation industry," said Sam Schwartz (Silver Sponsor).