March 6, 2023
CTDOT Signs Equity In Project Pledge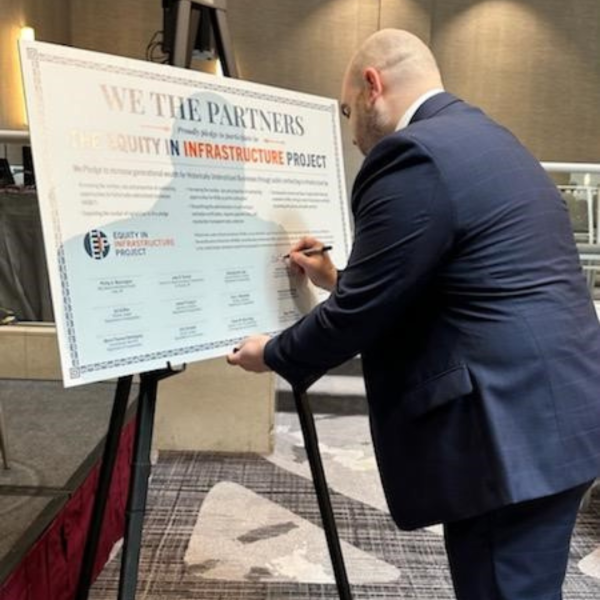 On March 1, 2023, Connecticut Department of Transportation (CTDOT) Commissioner Garrett Eucalitto signed an Equity in Infrastructure Project (EIP) Pledge alongside 11 other DOT chief executives to publicly commit to improving contracting opportunities for Historically Underutilized Businesses. The signing was held during the 2023 American Association of State Highway and Transportation Officials (AASHTO) Washington Briefing.
"The Connecticut Department of Transportation is committed to promoting equity in all aspects of our work," said Connecticut Department of Transportation Commissioner Garrett Eucalitto. "Significant infrastructure investments can enable Historically Underutilized Businesses to thrive and transform historically underserved communities. Now, more than ever, ensuring the benefits of contracting opportunities reach businesses owned by people of color and women and businesses that are socially and economically disadvantaged is critically important. Through the Equity in Infrastructure Pledge and our collective efforts to take intentional steps to provide economic opportunities, we can create more inclusive participation in contracting and expand access to opportunity for this generation and the next."
Through this Pledge, EIP is securing commitments to improve public contracting practices by creating opportunities for Historically Underutilized Businesses (HUBs) to build generational wealth, reduce the racial wealth gap, and grow the overall economy by including more Americans in the work associated with the ongoing historic investment in infrastructure by creating more prime, joint venture and equity contracting opportunities. HUBs can include firms formally designated as Disadvantaged Business Enterprise (DBE), Minority and Women-Owned Business Enterprises (M/WBE), and Small Business Enterprises (SBE).
Joining Connecticut to sign the pledge on March 1 were the DOTs of Colorado, Delaware, Hawaii, Kentucky, Maryland, Minnesota, New Jersey, Oregon, Puerto Rico, Washington State, and Wisconsin. Now, a total of 25 DOTs, Transit Agencies, and Communities have signed the pledge.
For more information, visit EquityInInfrastructure.org.