April 7, 2021
Meet ProKel Mobility and the Women Behind Its Success
Image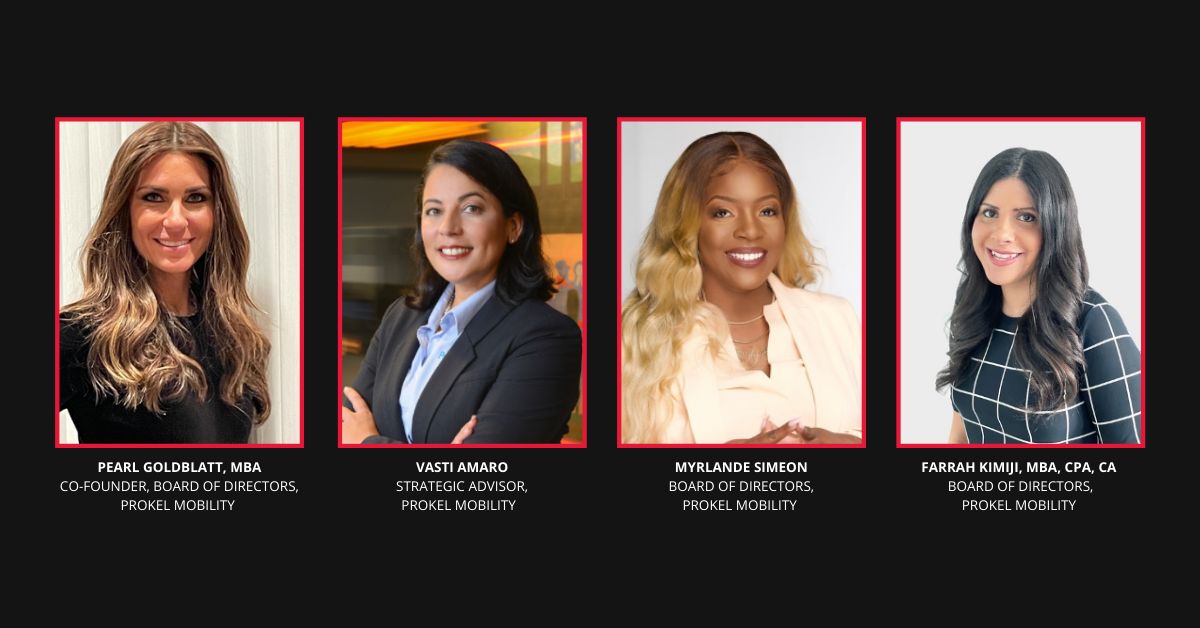 ProKel Mobility may be considered a small business, but it is making major moves in the South Florida region and beyond by providing full-service, on-demand, micro transit, paratransit, medical and shuttle services. Founded by Kelly Gonzalez, Jr. and Pearl Goldblatt, the company prides itself on providing freedom and access to opportunity for all. ProKel Mobility was a sponsor of last month's hugely successful COMTO Women's History Month program. Since most of its leaders are women, CEO Kelly Gonzalez, Jr. (who happens to be a man), thought it only made sense for the company to lend its support and help celebrate women in the transportation industry.
Today, we are going to spotlight ProKel Mobility and its leadership team. We sat down recently with Kelly and Pearl and the rest of the team to introduce themselves and discuss what it's like working for a company as unique as ProKel Mobility.
Part 1—Meet the Team
Pearl Goldblatt, MBA, Co-Founder, Board of Directors
Pearl Goldblatt, a leader in the healthcare and transit industries, is the co-founder and visionary of ProKel Mobility. Her passion for improving her community's quality of life is evident on the fast-tracking success of the company. With contracts in public transit fixed route, shuttle, paratransit services, and Non-Emergency Transportation (NEMT) space nearly doubling, the nation is starting to experience the "premier" solution driven transit models Pearl had in mind when the company was founded. 
Pearl, who has an MBA in Dietetics and Nutrition, envisioned transit solutions for those in need when she was tending to her elderly clients and saw visits from a Meals on Wheels volunteer fill in their food desert. Pearl wondered about elderly people's other needs such as doctor appointments and access to pharmacies or even groceries and thought that transportation options would help. That question led to her starting Pro Transportation in 2015, with only one vehicle, to realize her vision to improve the quality of life for the elderly in the South Florida market. Since her partnership with Kelly Gonzalez Jr., ProKel Mobility now is one of the largest NEMT providers in the South Florida market and one of the fastest growing transit companies in the US. ProKel has expanded into the ADA Demand Response and Fixed Route Public Transit market. ProKel was recently awarded new contracts where they will highlight their Micro-Transit models.
Vasti Amaro, Strategic Advisor 
Vasti Amaro is ProKel Mobility's Strategic Advisor. Since her inception in 2020, the company has broken into new market sectors and doubled in growth despite the pandemic. Vasti created multiple integrated strategic business plans which the company executed to grow exponentially.
Vasti has more than 25 years of transportation experience in both public and private sectors delivering passenger transport in the transit, airport ground transportation and university space. While working for global transportation firms, she was responsible for the successful start-up operations for Hillsborough Area Regional Transit (HART) in Tampa, Dallas Area Rapid Transit (DART), Phoenix Transit, Greater Richmond Transit Company (GRTC), Phoenix Sky Harbor International Airport CONRAC, Fort Lauderdale-Hollywood International Airport and the Bus Shuttle for the Miami International Airport. 
Before joining ProKel's board and serving as the executive suite coach for ProKel's CEO Kelly Gonzalez Jr., Vasti served as the Chief of Staff for the Port Authority of Allegheny County where she worked closely with CEO Katharine Eagan Kelleman and helped improve the agency's service, modernized its systems, and expanded the public engagement programs. 
Myrlande Simeon, Board of Directors (Marketing & Business Development)
Myrlande Simeon sits on ProKel's Board and contributes to their Marketing & Business Development initiatives. In less than a year since joining ProKel's board, the company revenue grew 27% and has expanded into new markets. Myrlande's background in marketing, business development, and finance has added an essential piece to the core of ProKel which has resulted in an increase in company appeal to new talent and ProKel's bottom line.
Myrlande has a strong track record of being a successful Change Agent for Fortune 500 companies. As VP of Bank of America, Myrlande held the top 1% in performance in 2019. Her ability to be the chief storyteller and paint the perfect picture for clients, customers and staff is one of her unique gifts. She has been able to fortify ProKel's business development department and establish some of the same industry-leading best practices she established in the finance sector.
A Miami native born of Haitian descent, Myrlande is a member of the Haitian American Chamber of Commerce of Florida (HACCF). Myrlande is a champion of her community and dedicates hours of her time to non-profit groups, such as the homeless recovery shelter Camillus House.  
In 2016, Myrlande founded the Mommy and Me Networking Seminars. These seminars focus on empowering women who own small businesses.
Myrlande was recognized as HACCF's Top 20 Under 40 in 2019. In 2016 she was Bank of America's (BAC) Pinnacle Award Winner and BAC's 2015 Top Performer Award winner.
Farrah Kimiji, MBA, CPA, CA, Board of Directors (Head of Innovation)
Farrah Khimji joined ProKel Mobility's Board of Directors in 2020. As the Founder of Futura Funds, Farrah brings ProKel Mobility the benefit of her innovative vision. Her passion to drive innovation by deploying emerging technologies that address the evolving needs of the public while also improving the customer experience, is a great asset.
Farrah advocates for progress, champions change, and challenges the status quo in the real estate, infrastructure, and transportation industry. Farrah leverages over 15 years of experience positioning "on the rise" companies, like ProKel, to be on the cutting edge of technology. With Farrah's counsel, ProKel has been able to grow in the transit space by developing unique and cutting-edge solutions for its clients.
Farrah is also committed to supporting Diversity and Inclusion initiatives as an advocate in her current and previous companies. She has been a speaker on this topic at several industry events & conferences, in her capacities as a member of REALPAC's Diversity & Inclusion Committee and as the President of Toronto CREW (Commercial Real Estate Women) – a chapter of the global CREW Network with over 12,000 members.
Part 2–Roundtable Discussion
COMTO: Tell us more about ProKel Mobility. What do you do? What kind of services do you provide? What kind of clients do you serve? How long have you been in business? 
Kelly Gonzalez: ProKel Mobility is one of the fastest growing mobility solutions company in the US. ProKel provides First Mile-Last Mile, Fixed-Route, Shuttle Bus, On-Demand Micro Transit, NEMT, and ADA Para Transit services with government transit agencies and the private sector. We started in 2015 with one bus in Palm Beach. We now have over 70 vehicles in the South Florida market including offices in Georgia, Ohio, and Texas.
COMTO: Why did you feel that it was important to sponsor the Women's History Month event and highlight the women of ProKel? 
Kelly: It was important for me to sponsor the Women's History Month event more than ever. The women in our industry have taken the lead in innovation and deployment. ProKel would never have risen as fast as it has if it weren't for our leading women. They are the foundation of our company, just like many women are in others. I want to ensure I highlight and support our women leaders not only at ProKel, but within the entire industry.
COMTO: Were you intentional about hiring women at ProKel or did it just happen? 
Kelly: We brought on the best of the best. They just happen to be women. I am surprised when I see some firms are not as diverse. If you take a quick look at the ProKel women, they are all entrepreneurs with an interest in other industries. It coincides with today's statistic of the fastest growing group of entrepreneurs in America are women. I am lucky enough to harness a piece of that fastest group into ProKel. They bring that change agent entrepreneur spirit to our company.
COMTO: Pearl, how did you and Kelly from your partnership to start ProKel?  
Pearl Goldblatt: Kelly and I have known each other for years. The industry has seen how Kelly has helped grow so many firms into what they are today. It just made sense when we partnered, and as you can see in less than a year, we've grown one-third of our business.  
COMTO: What are some unique traits and talents women bring to the table as leaders?  
Pearl: Women are more expressive than men and are less restrained when verbalizing their thoughts. Our board meetings have an edge over most traditional board meetings. We leave no stone unturned when exploring new solutions for our customer's problems. We collaborate as one and take precise calculated risk in all we do. We are not afraid to challenge the status quo and are very resilient on completing the goals we set together.
COMTO: Farrah, can you talk more about being head of Innovation? Are there many women in this space?
Farrah Kimiji: As Head of Innovation representing the Board, my role is to help shape the culture and processes required for innovation to succeed here at ProKel. ProKel 's business model has innovation at its core and the company focuses on building customized transportation solutions tailored specifically to the customer. There is no template approach for our customers. In order to have a "Wow" factor and ensure a customer centric approach at all the projects we take on, it's my job to establish an innovative creating processes and work with the team members to ensure it's executed.
Yes, there are women in the space. You have Natalia Quintero who leads the Transit Innovation Partnership with the MTA and multiple public-private companies that use technology to improve public services. You also have Gwen Lighter of GoFLY. Gwen leads a network of over 3,700 innovators from over 100 countries creating a multitude of personal flying devices.
Many times, women who serve as Head of Innovations for companies end up going their own route when the companies stop innovating and creating. I'm glad ProKel's founders, Pearl and Kelly, put a strong emphasis on constantly evolving. This fuels me to create at my best.
COMTO: What's it like being part of a team where the majority of leadership are women?
Vasti Amaro: I never really think about it, but I'm proud of how we started. We work well together and because of that, the organization is experiencing great success. I'm not just referring to success with the bottom line, but also setting the tone globally of the benefits of diversifying the boardroom with more women. 
COMTO: Besides the women of ProKel – who are some women who inspire you? 
Myrlande Simeon: One of the most tenacious and inspiring women I know is Shirley DeLibero. What she did in Boston, Dallas, Houston, New Jersey, and Washington DC is hard to repeat. What she accomplished in the transit industry during an era where you could probably count women of color that had executive roles on one hand is mind blowing. I read her stories, see some of her interviews, and heard some of the stories Kelly tells me about when they both worked with MV Transportation. Her toughness and trailblazing effect on the industry has set the stage for women like Pearl, Farrah, Vasti, and I. I know her footprints are hard to follow, but I'm here to make a difference as well.
COMTO: What can businesses do to help women become leaders in transportation and thrive? 
Vasti: Businesses should ensure there is woman leadership representation throughout all levels of the organization.  They should invest in training and development programs that support the career growth for their female employees along with equal pay.   This includes investing in leadership training programs offered by professional transportation associations like COMTO and encourage female employees to serve on boards and committees.  Additionally, they should have a Sponsor Program where each executive "owns" the career path and growth for the women in their organization. Lastly, public sector organizations can set WBE goals for projects that qualify for such designation.